INRICH Member Profile Card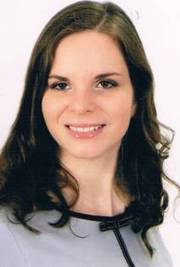 Patrycja Piotrowska
University of Sydney, School of Psychology
---
Dr Piotrowska received her BSc (Hons) in Psychology & Criminology from the University of Bedfordshire (UK) in 2011, and completed her PhD in Psychology at the University of Sheffield (UK) in 2015. She then worked as a researcher and evidence analyst for Samaritans (a UK-based charity supporting people in emotional distress) until joining the Like Father Like Son project team as a postdoctoral research associate.
---
Type of member: Provisional Member
---
Telephone: (+61) 0423 740 944
Email Address: pj.piotrowska@gmail.com
Mailing Address: 403/2 Pearl Street, Erskineville, 2043, Sydney, NSW, Australia
---
Current research interests
I specialise in developmental psychopathology research, and my research interests span a wide range of disciplines, topics, populations and research methods. I am particularly interested in investigating proximal and distal factors that influence a range of mental health problems in children and adolescents (behavioural problems in particular), and applying advanced statistical techniques. I am highly experienced in various research approaches to social inequalities, with practical experience in managing complex datasets.
---
Selected publications
Piotrowska, P.J., Stride, C.B., Maughan, B., Goodman, R., & Rowe, R. (in prep.). Mechanisms and processes involved in social gradients in child and adolescent antisocial behaviour.
Piotrowska, P.J., Stride, C.B., Croft, S.E., & Rowe, R. (2015). Socioeconomic status and antisocial behaviour among children and adolescents: A systematic review and meta-analysis. Clinical Psychology Review, 35, 47-55. (Impact Factor: 8.15; JCR in Clinical Psychology 2/252)
Piotrowska, P.J., Stride, C.B., Maughan, B., Goodman, R., McCaw, L. & Rowe, R. (2015). Income gradients within child and adolescent antisocial behaviours. British Journal of Psychiatry. (Impact Factor: 7.06; JCR in Psychiatry 7/124)
Piotrowska, P.J., Stride, C.B., & Rowe, R. (2012). Social gradients in child and adolescent antisocial behavior: a systematic review protocol. Systematic reviews, 1(1), 38-38. DOI: 10.1186/2046-4053-1-38. (Impact Factor: unavailable)
profile updated: 06/16/2017